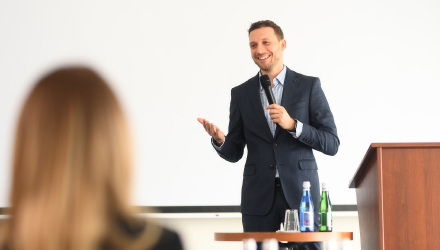 Pod Ślimakiem Restaurant provides full organization of small business meetings, professional conferences, trainings, workshops and symposiums.
We provide a unique event space with the possibility to arrange it and adapt it to the nature of the meeting. We have years of experience in event management.
Our main advantages:
Location
Pod Ślimakiem Restaurant is a part of the picturesque Park Kajetany complex. It's located in Kajetany near Nadarzyn, close to Warsaw Expo, just 30 minutes from the center of Warsaw. Fast exit to S8 road will provide convenient access for business meeting participants.
In the elegant Pod Ślimakiem Restaurant
you can enjoy lunch, dinner and gala dinner. It has a buffet and direct access to large illuminated garden. Its space could be customized to your needs to perfectly accommodate your event.
Three professional conference rooms
with an area of between 55 sqm to 65 sqm and the possibility of connecting to a single room with an area of 177 sqm and a capacity for up to 200 people in theater style. They are equipped with:
retractable projector controlled by remote control
Internet access
movable walls allowing for any combination
Modern AV equipment
adjustable lighting
flipcharts, office supplies
air conditioning
Catering service
adapted to the nature of the event
self-service bufet
breakfast, lunch, brunch or dinner in a served or self-service buffet
Hotel Park Kajetany offers comfortable accommodation
Single or double rooms, apartments are with the swimming pool and wellness zone access.
Spacious garden
in a quiet forest including:
patio
bower
pond
park architecture
lighting
Dedicated caretaker
provides excellent service, ensures the event run from the moment of the inquiry to the end of the process.
We invite all people from the event industry, companies, institutions, as well as individuals to cooperate. Contact event manager by phone or email.
Piotr Kaczmarek
tel. +48 607 222 898
e-mail: p.kaczmarek@parkkajetany.pl